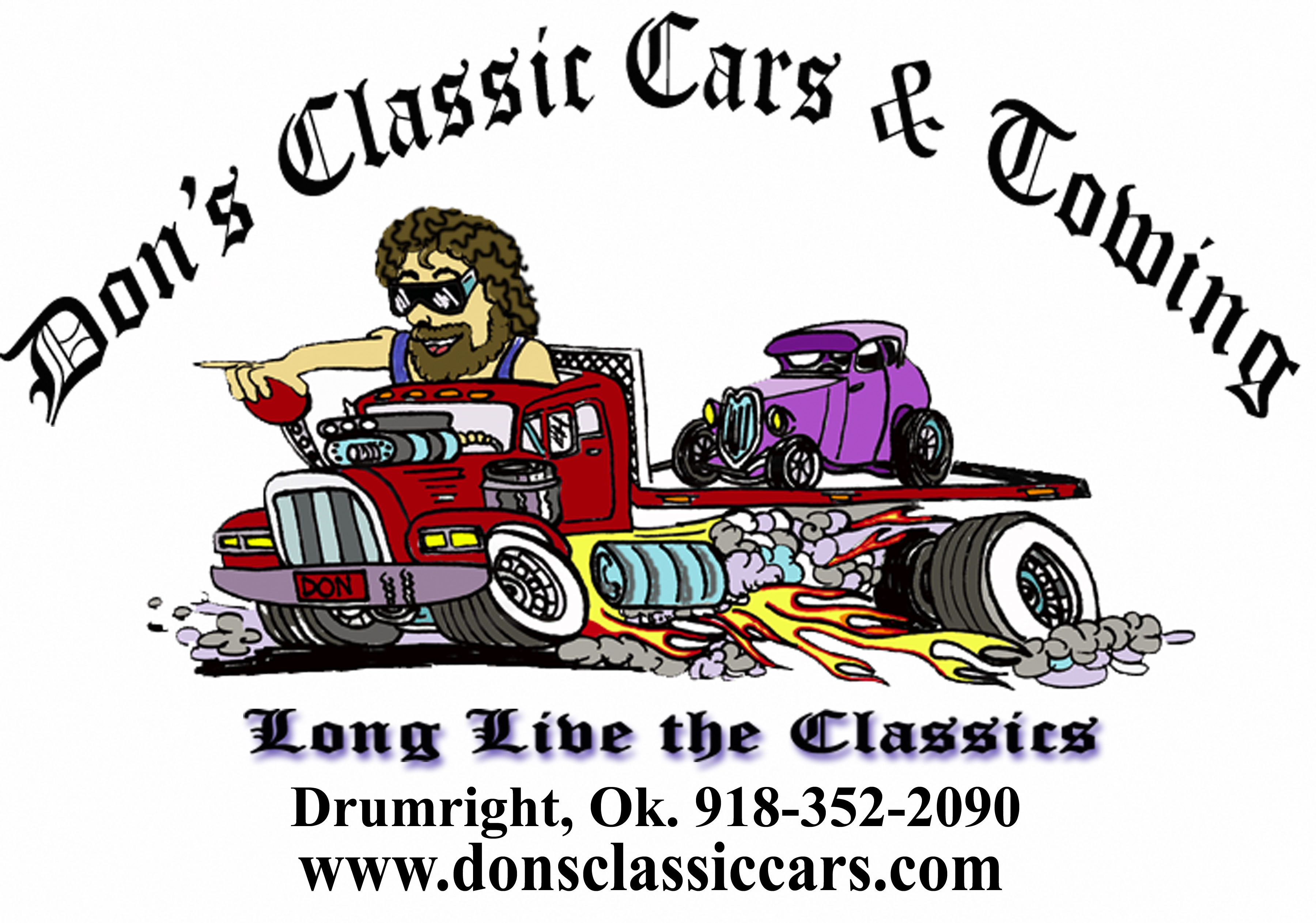 Dons Classic Cars & Towing, LLC is a family owned car dealership dedicated to providing you with quality restoration and towing services. In addition, we now offer performance parts and accessories for enthusiasts. While we specialize in the classics, we buy and sell all models of previously owned cars. We provide full maintenance and mechanical services, as well as towing and recovery. Please feel free to contact us with any questions you may have regarding the cars or product lines featured on this site.

(918) 352-2090

Special Offer
1926 Dodge Brothers Touring Sedan $6,500.00
The results of this loan payment calculator are for comparison purposes only. They will be a close approximation of actual loan repayments if available at the terms entered, from a financial institution. This is being provided for you to plan your next loan application. To use, enter values for the Loan Amount, Number of Months for Loan, and the Interest Rate (e.g. 7.25), and click the Calculate button. Clicking the Reset button will clear entered values.
Enter only numeric values (no commas), using decimal points where needed.
Non-numeric values will cause errors.
This free script provided by
JavaScript Kit
Hours: 8 AM to 5PM Monday through Saturday
PLEASE CALL US WITH ANY QUESTIONS: (918) 352-2090


200 S. Penn Ave
Drumright, OK 74030
Phone: (918) 352-2090
Don's Classic Cars Online is proud to announce that we now carry the following product lines:
Accel, Aeromotive, AFR, AIRAID, ARP, AutoMeter, B&M, Coker Tires, Cooper Tires, CRANE Cams, Earl's, Edelbrock, Federal Mogul, FEL-PRO, Flex-a-lite, Flowmaster, Holley, Hooker Headers, Hypertech, K&N, Lokar, Mallory Ignition, March Performance, Mickey Thompson, Mopar Performance Parts, Moroso, Mr Gasket, MSD Ignition, NOS, Painless Performance Products, Performance Parts, PerTRONIX, POWERMASTER, RHS, Richmond Gear, Russell, Summit Racing Equipment, Taylor, TCI, TREMEC Transmissions, Trick Flow, & WALBRO.
Feel free to contact us as we are confident we have or can help you find what you are looking for. We have an extensive list of available autos, parts and accessories available.
__________________________________
All That Embroidery is now offering our customers access to their bulk rate specials! Check them out for great deals like embroidered hats as low as $5.00 each…